Offer details
Mechanical Design Manager (2023-87335)
Posted on 31/10/2023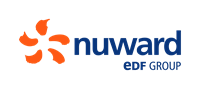 Main characteristics of the job offer
Contract type:

Permanent contract

Level of education:

Master, DEA, DESS

Experience:

10 years and more

Specializations:

Design Engineering

Country / Region:

France / Auvergne-Rhône-Alpes

Department:

Rhône (69)

City:

LYON
Description of the offer
At a pivotal time in its evolution with many exciting opportunities, now is an excellent time to join the EDF Group, championing low-carbon energy growth, committed to the fight against climate change and for provision of a secure future energy supply. By joining NUWARD, you will put your skills and enthusiasm to use as part of a major project, working towards the future of the European energy industry.
NUWARD is the EDF Group's subsidiary dedicated to development and deployment of its NUWARD SMR. The company is developing a new small-scale modular reactor which will complement EDF's range of nuclear power plant offers, in order to meet the growing worldwide demand for controllable and carbon-free power generation facilities.
The project, combines cutting-edge innovation developed through the extensive knowledge and expertise of the best industrial partners in France (CEA, Technicatome, Framatome, Naval Group) and in Europe (Tractebel). Our goal is to become the European SMR reference design. Join us to be part of this exciting venture.
YOUR ASSIGNMENTS 💬
You will report to the mechanical coordinator of the NUWARD SMR project and will manage the mechanical design activities related to Primary Circuit and Secondary Circuit. The project leans on many innovations (plate steam generator, metallic containment, …) to simplify the design and lower and undercut the specific investment cost. The mechanical design of these innovations will be deepened during the Basic Design phase. More generally, the mechanical design of main components
Your assignments will consist in:
Ensure the mechanical sizing of main components of Primary Circuit and Secondary Circuit;
Contribute to the design choices of these components with the partners, to the technical specifications;
Pilot and review the partners studies on mechanical design of these components;
Contribute to licensing with the French Nuclear Safety Authority for mechanical sizing files;
Organize and realize the meetings and reviews needed for the activities.
Location 📍
Job based in Lyon with some travel to other NUWARD sites (Paris, Tours) and to partner engineering sites (TechnicAtome in Aix-en-Provence, Naval Group in Nantes, CEA in Cadarache, Framatome in Lyon).
Desired profile
DESIRED PROFIL 🙋
You have extensive knowledge or experience in :
Mechanics / strength of materials;
AFCEN RCC-M code or ASME equivalent;
Codes and standards (European context);
Material and welding, component manufacturing process;
Design engineering process.