Offer details
Négociation et trading F/H (2023-79911)
Posted on 04/05/2023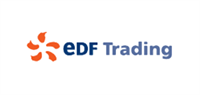 Main characteristics of the job offer
Contrat type:

permanent_contract

Level of education:

Master, DEA, DESS

Experience:

2 - 5 years

Specializations:

DATA - Applied Mathematics - Statistics

Country / Region:

France / Ile-de-France

Department:

Paris (75)

City:

1 place pleyel
Description of the offer
Company information
EDF Trading is a leader in the international wholesale energy markets. The company manages a portfolio of assets which give it the ability to source, supply, transport, store, blend and convert physical commodities around the world. These capabilities enable EDF Trading to deliver essential asset optimisation services, risk management and wholesale market access to the EDF Group and its third party customers, helping them to realise the value inherent in their asset portfolios.
EDF Trading is active in the electricity, natural gas, LPG, oil and environmental products markets. It is also active in the LNG and coal and freight markets via JERA Global Markets* ("JERAGM*"). EDF Trading is one of the largest wholesale market traders in Europe for power and gas. In North America, EDF is one of the leading marketers of gas and power, one of the main providers of generation services for power generation companies and a leading energy retailer for large commercial and industrial customers.
EDF Trading is a 100% owned subsidiary of EDF SA., one of the world's biggest electricity generators and a leader in low-carbon production.
EDF Trading has around 800 employees with key offices in London, Paris, Singapore and Houston.
For more information, please visit www.edftrading.com
Department
EDF Trading Markets Limited is the Paris Branch of EDF Trading and provides the base for the European Optimization business. The optimization of the EDF SA production assets on the European wholesale markets is conducted on a 24/7 basis by the Trading and Analytical Teams in Paris in close cooperation with the EDF Asset management. Optimization and proprietary trading are conducted across multiple markets.
The day-ahead power trading activity of EDF Trading for France, Germany, Switzerland and Austria
The intraday power trading activity of EDF Trading across Europe
Intraday trader role
On the Intraday team, we trade power across all European markets on a 24/7 basis with various products, some of which can be traded up to 5mn before the actual delivery of the physical power.
All our candidates have to demonstrate strong abilities on commercial, analytical and technical skills to take instant decisions in trading environment.
In addition to trading, you will work on developing our models and improving our trading strategies through different coding language (python, VBA.)
You will also work with analysts to continuously improve our models and stay at the forefront of Intraday power market.
You will have the management of the biggest portfolio in Europe and receive the contribution of multiple experienced and dedicated colleagues.
Desired profile
Journey as intraday trader
You will have some training over several months where you will quickly be involved in the trading.
When the trading training period will be completed, you will undertake detailed fundamental analysis of the market, build and support analytical tools for all the desk and develop as a strong knowledge of various commodities for all of Europe.
You will then have the possibility to mentor junior traders and share your knowledge on the markets you trade on.
Experience required
Experience in either a commodities trading environment (for example trading, asset optimisation, risk management or portfolio analysis) or in a closely related working environment.
Technical requirements
Our new trader can have a wide range of background from a degree of Economics, Finance or Engineering.
We are looking for someone extremely motivated, disciplined, decisive and able to work under pressure. She/he must possess some attention to details, good communication skills and be a team player.
We also ask the candidate to be an experienced user of various coding languages such as Python, VBA and to possess reliable IT skills.
Knowledge in commodity market would be appreciated.
Hours of Works
The position requires flexibility on work hours and days due to market requirements.
Shift rota including night, weekend and Bank Holiday shifts (24/7).